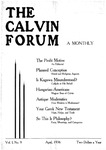 Title
Description
CONTENTS - Vol. I. No. 9, APRIL, 1936
EDITORIALS
195 - The Risen Christ Fades Out
195 - The Profit Motive
196 - Progressive - Not Liberalistic
197 - The New Tide in Art
197 - Vitalism in Literature
ARTICLES
197 - Planned Conception: Religious and Moral Aspects. By Jacob D. Mulder,
S.B., M.D.
200 - In Defense of Kagawa. By Jan Karel Van Baalen, B.D.
202 - Your Magyar Calvinists. By Alexander Toth, D.D.
205 - The Antiques of Modernism. By Leonard Greenway, Th.B.
207 - Your Greek New Testament. By William T. Radius, A.M.
209 - Philosophy and Orthodox Christianity. By C. A. Plantinga, A.M.
BOOK REVIEWS
214 - A Successful Bible Romance?
215 - Making the Epistles Real
215 - What is Form-Criticism?
216 - Good Sermons
216 - Poetry and Childhood
VERSE
199 - Struggle No More
211 - The Lens
212 - The Crucifixion
Managing Editor
Clarence Bouma
Recommended Citation
Calvin College and Seminary, "The Calvin Forum" (1936). The Calvin Forum (1935-1956). 9.
https://digitalcommons.calvin.edu/calvin_forum/9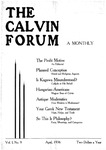 COinS