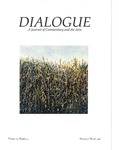 Title
Description
Editorial
Variations on a Scene Peter Vander Meer 4

Essay
... And The Mountains Should Crumble into the Sea ... Jamey Bouwmeester 11; Russia, My Love Sarah C. Vos; Neighborhood Watch Laura J. Veltman 23; Severed in Unity Kelley Evans 34

Fiction
Middle of Nowhere Kirk Dombeck 6; The Television Andy Rau 16; Lost, Found, and Hidden Susan Bruxvoort 27

Portfolios
Aaron Breland 30; Ralph Faasse 36

Poetry
"The Cobalt Maternity" Jane C. Knol 19; "Her Testimony" Emily McDermitt 26; "Variation on Love" Sarah Byker 29

Visual Art
"Investment" Geneva J. De Groot 5; "The Hate Tree" Shawn Krueger 8; "Life On The Table" Julia Schickel 10; "Return To Innocence" Grace Lee 13; Untitled Jesse Claggett 15; "Sometimes Day in January" Wayne Adams 20; "The Regent Theatre" Gary De Witt 21; "My Heart is Full ... " Eric Nykamp 28; "A Sketchbook Drawing" Jesse Claggett 33

Cover
"Bush's Study No. 7"




Publication Date
3-1-1996
Month/Semester
February/March
Editor-in-Chief
Peter Vander Meer
Co-Editor/Managing Editor 1
Joe Vander Meer
Recommended Citation
Staff and writers of Dialogue, "Dialogue" (1996). Dialogue. 165.
https://digitalcommons.calvin.edu/dialogue/165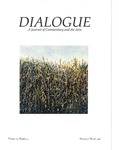 COinS