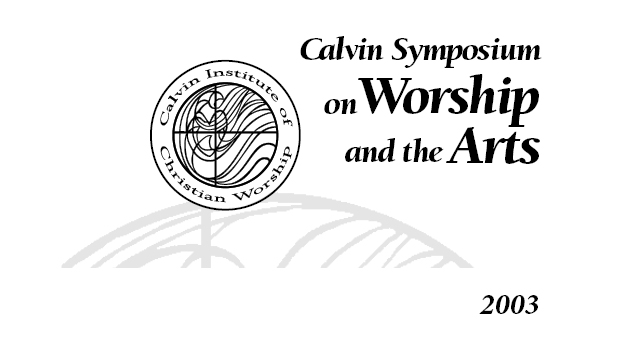 For over 35 years, the Calvin Symposium on Worship has annually gathered together worshipers from many Christian traditions across Canada, the US, and beyond, bringing together people from a variety of roles in worship and leadership, including pastors, worship planners and leaders, musicians, scholars, students, worship bands and teams, organists, visual artists, preachers, chaplains, missionaries, liturgists, council and session leaders, and more. Cosponsored by the Calvin Institute of Christian Worship and the Center for Excellence in Preaching at Calvin University and Calvin Theological Seminary, the Symposium aims to encourage leaders in churches and worshiping communities of all sizes and settings.
Schedule

Conference Worship Services - Calvin Symposium on Worship and the Arts

Paul Detterman, Calvin Presbyterian Church
Howard Vanderwell, Calvin Institute of Christian Worship
Dennis Dewey, Network of Biblical Storytellers
Marie Rubis Bauer, St. Patrick's Catholic Church
Jorge Lockward, United Methodist Church
Vicky Tan Warkentien
Carl Stam, Southern Baptist Theological Seminary
Andrew Donaldson, Beaches Presbyterian Church
Matt Redman
Ron Rienstra, Calvin College
Robert Keeley, Calvin College
Tim Haig
Pamela Smitter Baker
Wesley Broadnax
Joseph Mason
Scott Thornburg
Perrin Reinders


The four services are based on the two central claims found in Joel 2: a call to repentance and the promise of the Spirit. The first claim, "rend your hearts and not your garments," has been the church's traditional call to Lenten repentance. The second, "I will pour out my Spirit," has been the church's traditional reading for Pentecost. The life of faith is anchored by both this challenge and this promise, never one without the other.

Taizé is a religious community near Cluny, France, founded after World War II. The brothers have developed a unique prayer style which is ecumenical and meditative. Each year thousands of people visit this community to worship at Taizé. The usual Taizé service is based upon the historic Service of the Word with some variations. Taizé worship includes singing, silence, scripture and prayer, and many worship communities have patterned their services after Taizé.

Jazz Vespers is an eclectic mix of poetry, prayer, scripture and live jazz. Centered on a particular theme, the service loosely follows the pattern of Evening Prayer. In Jazz Vespers, the juxtaposition of visual, auditory and textual elements create a unique setting for prayer.

Handout - Notes on the Piano Music

Charlotte Kroeker, University of Notre Dame
Abner Hershberger, Goshen College
Lisa DeBoer, Westmont College
Dennis Dewey, Network of Biblical Storytellers
Robert J. Batastini, GIA Publications
Judy Britts
Todd E. Johnson, Loyola University


Notes on the piano music, which explores the realm of sacred art literature for the piano.

Some notes on the symposium as a whole are also present, with additional resources through the Calvin Institute of Christian Worship and conference announcements.

Learning from Christian Worship Worldwide with a Posture of Grateful Humility and How Worship Gives Us a Timeline to Live By

Charles Farhadian
C. Michael Hawn, Southern Methodist University


How cross-cultural worship encounters prompt us to ask better questions about our own worship and Gather Into One: Prayer and Singing Globally.

"Tell all his wonderful acts" is more than a simple textual refrain in David's canticle (1 Chron. 16:9b); it is the fundamental practice of liturgy. In like manner, Christian worship should anchor our memory in God's work in history, centered in the life, death, and resurrection of Jesus Christ, and anchor our anticipation in the future coming of Christ and the kingdom of shalom he will usher in.

Organ Recital: Treasures for the Paschal Season

Marie Rubis Bauer, St. Patrick's Catholic Church


Includes Komm Heiliger Geist, Windows of Comfort: Two Oranbooks, Versetti, and Chorale Variations sur la théme du "Veni Creator Spiritus", Op. 4.

Poster - Buscando la Paz: A Quest for Peace

Jorge Lockward, United Methodist Church
Bill Vanden Bosch
George Davis


A poster advertising a bilingual Sunday morning worship session at Oakdale Park Church, featuring Coro Cántico Nuevo directed by Jorge Lockward.

Program - Calvin Symposium on Worship and the Arts

The Calvin Symposium on Worship and the Arts aims to bring together worship leaders and planners, pastors, artists, dramatists, and musicians from many church traditions to engage in worship, fellowship, learning, and discussion around preaching, drama, organ and piano music, worship planning, visual art, and congregational song.

The conference program is both ecumenical and Reformed, both principled and practical, both appreciative of a heritage and open to contemporary expression.

This year we welcome 1400 conference participants and presenters from all over North America and other parts of the world. Over thirty denominations are represented at the conference. People have traveled here from 30 states, 5 provinces, and also from England, India, Hong Kong, Argentina, Taiwan, Indonesia, Spain and Zimbabwe. In all our listening, learning, discussion and worship, we have the joy of discovering the rich breadth of the body of Christ as it worships around the world, and at the same time, we are able to proclaim that we believe "one Lord, one faith, one baptism." We hope that you will seize this brief opportunity to meet someone you do not know, to engage in discussion so that your understanding and experience of the Holy Spirit's work in the worship life of the church is heightened.

Due to travel and visa problems, David Peterson is unable to be with us. We learned this just Thursday morning. As a result, please note the following two schedule changes for those of you who signed up for his sessions on Friday (A7) or Saturday (D16). We are again very grateful that three other presenters are willing, on very short notice, to offer other sessions which we think will be of interest to you as well.