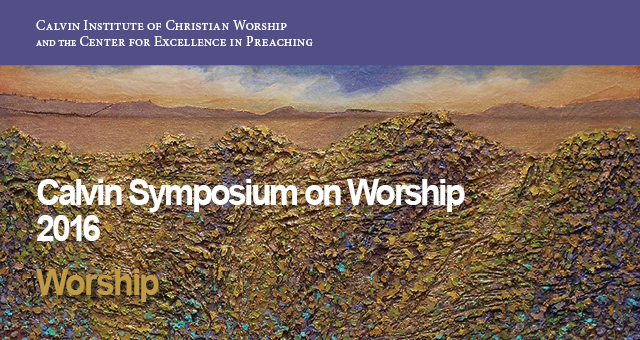 Isaiah was given one tough assignment by the Lord God of Israel. Isaiah was commissioned to preach, as all prophets were, but in Isaiah's case God assured him up front that the better he preached, the less people would listen. The people's ignoring and even spurning of Isaiah's sermons would serve as a sign against them that the judgment God was sending was just and altogether warranted. Isaiah's was a stern message of judgment but scattered throughout even the first half of the book are lyric passages of hope. But then comes the second part of Isaiah where words of encouragement and hope pile up in lovely ways. At the 2016 Symposium we will use some of those later texts of Isaiah in our worship to remind ourselves that although our God is a God of justice, God is also the font of all grace and hope. It was a comforting message for Israel and is no less a source of unending joy in the New Israel, the Church of Christ Jesus our Lord.
Subscribe to RSS Feed (Opens in New Window)
Schedule

God of Justice, Love, and Mercy

Jennifer Ackerman, Fuller Theological Seminary
Jennifer Graffius, Fuller Theological Seminary
Laura Robinson Harbert, Fuller Theological Seminary
Todd E. Johnson, Fuller Theological Seminary
Ed Wilmington, Fuller Theological Seminary


Led by singers, band, organ, and strings, the Fuller Seminary Chapel worship leaders utilize traditional and original resources to guide worshipers through a prayerful liturgy of confession and forgiveness.

Mary Hulst, Calvin University


Reggie Smith, Christian Reformed Church of North America


Isaiah 60: A Light to the Nations

Richard Mouw, Calvin Theological Seminary


Frank Thomas, Mississippi Boulevard Christian Church


Isaiah 65: New Heavens and New Earth

Anne Zaki, Calvin Institute of Christian Worship


Lord, Make Me An Instrument of Your Peace

Conference Gospel Choir


My Soul Finds Rest In God: Psalms of Praise, Lament, and Hope

Sandra McCracken


Join with singer-songwriter Sandra McCracken for contemplative songs and liturgical prayers, while making space within this worship service for both lament and joy.

The Good News for the Hurting: A Service of Scripture and Song

Michael Burkhardt, Holy Cross Lutheran Church
Zebulon M. Highben, Muskingum University
Adam M.L. Tice


Led by the choir and organ, this service of scripture and song surrounds a few Isaiah texts, bring good news for a hurting world.

"Through It All:" Our Story, Our Song

Emmett G. Price III, Northeastern University


This service will feature the inspiring prayers, songs, and readings from the African American worship tradition, past and present.

Were You There When They Crucified My Lord?

Jeff Barker, Northwestern College
C.J. Kingdom-Grier, Western Theological Seminary


The Northwestern College touring drama ensemble along with C.J Kingdom-Grier will help us remember the story of the arrest, trial, crucifixion and resurrection of Jesus. This service is a verbatim presentation of Isaiah 53 and Luke 22–24.