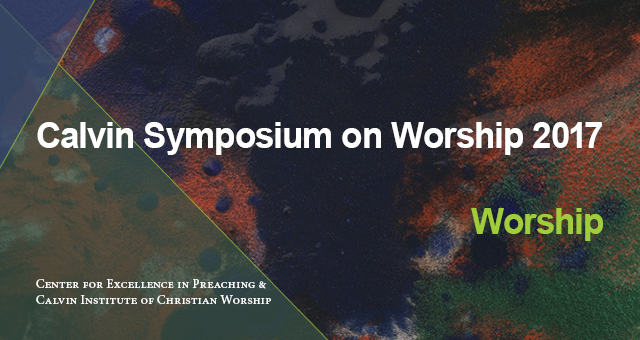 Throughout our world in recent years, Christians along with everyone else have been convulsed by terrorism, martyrdom, persecution, and political upheavals of many varieties. Like other key moments in history, these are days when the Church needs to rely on the foundations of the faith and on that utter certainty that Christ really is the First and the Last whose loving hands hold together God's people in heaven and on earth. The Bible's closing book of Revelation is filled with majesty and mystery. But weaving throughout is the golden thread that God is in charge over even the most tumultuous of earthly events. The past has not undone our God in Christ, the present is held by God's grace, and the future is sure and altogether trustworthy. Whether on earth the church feels secure or in exile, the Lamb upon the throne—just hidden from our sight by that veil between heaven and earth—gives us cause to rejoice. At the 2017 Symposium on Worship we will use key texts from Revelation in our worship services as we join the heavenly chorus in shouting "Worthy is the Lamb!"
Schedule

A Mosaic of Faith and Hope: A Festival Psalms, Hymns, and Spiritual Songs

James Abbington, Candler School of Theology
Emmet G. Price III, Institute for the Study of the Black Christian Experience at Gordon-Conwell Theological Seminary
Kathleen S. Turner, Greater Allen AME Church


Alumni of the James Abbington Church Music Academy of the Hampton Ministers Institute lead a festival of congregation songs from a variety of cultural settings that explore contrasting, but complementary ways that music brings to expression Christian faith and hope.

Celtic Psalms: Finding Light in the Darkness

Karen Campbell, First Presbyterian Church
Kiran Young Wimberly
McGraft Family


In this worship service we pray with psalms set to soulful Irish and Scottish melodies, exploring how God's light shines even in the midst of our darkest nights, guiding us into places of joy, forgiveness, and peace.

Many Colors Pain the Rainbow: A Service of Scripture Proclamation, Choral, and Congregational Song

James Abbington, Candler School of Theology
Coro Polifónico
ACTion Choir
Calvin Alumni Choir


The Calvin College Alumni Choir collaborates with members of Coro Polifónico from the Seminario Internacional Teológico Bautista in Argentina and Artists Creating Together, a Grand Rapids-based choir that empowers individuals with disabilities to learn, grow, and celebrate through the arts to lead songs, hymns, and anthems which express our profound solidarity as members together of Christ's body. How good and pleasant it is when God's people live together in unity!

Revelation 4-5: The Songs in the Heavenly Throne Room

Trygve Johnson, Hope College


Revelation 7:9-17: The Great Multitude of God's People

Josiah Chung


Silence and Beauty: Prayers for the Suffering Church

Makoto Fujimura, Fuller Theological Seminary
Lily Constantine Kakish
Joel Navarro, Singapore Bible College's School of Church Music
Gabriel Salguero
Eric Sarwar, Tehillim School of Church Music and Worship
Cassandra Vander Well, Calvin College
Anne Zaki, Calvin Institute of Christian Worship


This vesper service will focus on prayers for the suffering church, with testimonials, music, and artwork evoked by poignant experiences of faith in Egypt, Lebanon, Pakistan, Japan, and the United States.

Trumpets, Ashes, and Tears: New Psalmody for the Journey of Faith

Tony Alonso, Emory University
Marty Haugen, Mayflower United Church of Christ
Wendell Kimbrough
Isaac Wardell, Bifrost Arts
Lisa M. Weaver, Columbia Theological Seminary


Songwriters with ministries of writing congregation-friendly settings of the biblical Psalms lead us in sung prayer, along with scripture readings and intercessions focused on ministering to the needs, challenges, and vocation of worship leaders, artists of all kinds, and pastors.

Tú Jesús, nuestra esperanza/Come to Be Our Hope, Jesus

Alfredo Colman, Baylor University
Carlos Colón, Baylor University
Coro Polifónico


A bilingual pilgrimage of songs and prayers that trace the life of Jesus and testify to healing and transformation which Jesus' ministry continues to bring through the Holy Spirit. The service will feature songs for both choir and congregation from Latin America, led by Coro Polifónico from the Seminario Internacional Teológico Bautista from Argentina, including several being prepared for use in bilingual English-Spanish language communities in North America.