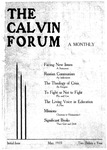 Title
Description
CONTENTS - Vol. I. No. 1, MAY, 1935
Editorial Contributions:
3 - Facing New Issues: A Statement
5 - Editorial Paragraphs
6 - A Vicious Circle
7 - The New Frontier Days
Contributed Articles:
8 - Russian Communism - An Indictment. By Peter Hoekstra, Ph.D
10 - The Enigma of the Theology of Crisis. By Diedrich H. Kromminga, Th.B
13 - The Government Calls Me to Fight - Must I Obey? Two Views. By Jacob Harry Bruinooge, Th.D., and. Peter G. Berkhout, M.D
17 - Inst.ruction by the Living Voice: A Plea. By Henry Van Zyl, Ph.D.
Books, Principles, and Ideas:
20 - Evolution Atheistic
21 - Recent Gospel Research
21 - Erasmus as Inclusive Religious Liberal.
22 - A Pastor on "Nervous Breakdown"
22 - Shall Christian Missions Continue Christian?
23 - America's Outstanding Literary Writers
23 - The Old Brand with a New Wrapper
23 - Books in Brief
Publication Date
5-1-1935
Managing Editor
Clarence Bouma
Recommended Citation
Calvin College and Seminary, "The Calvin Forum" (1935). The Calvin Forum (1935-1956). 1.
https://digitalcommons.calvin.edu/calvin_forum/1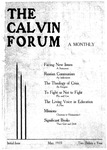 COinS