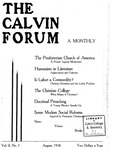 Title
Description
CONTENTS - Vol. II. No. 1, AUGUST, 1936
EDITORIALS
3 - The Presbyterian Church of America 3 - A Presbyterian Ccunter-Reformation?
4 - Chesterton, Christian Apologist and Social Reformer
4 - Practical Atheism
4 - The Chameleonic Church
5 - Our First Candle

ARTICLES
5 - Humanism in Literature. By Jacob G. Vanden Bosch, A.M.
8 - The Labor Problem and Christian Fundamentals. By Albertus Pieters., D.D.
10 - What is a Christian College? By Ralph Stob, Ph.D.
11 - Shall We Preach Doctrinal Sermons? By Frederic E. Williams, M.A., B.D.
14 - Protestant Principles and Social Reform. By Edward B. Horne, M:A., B.D.
17 - News and Views. By the Editor
20 - Netherlands News. By Henry J. Van Andel, A.M.
BOOK REVIEWS
21 - Communist Ideology in Action
22 - Old Testament Studies
22 - Southern Presbyterian Leaders
23 - A Former Agnostic Speaks
VERSE
13 - Hesitant
Managing Editor
Clarence Bouma
Recommended Citation
Calvin College and Seminary, "The Calvin Forum" (1936). The Calvin Forum (1935-1956). 13.
https://digitalcommons.calvin.edu/calvin_forum/13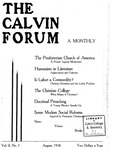 COinS