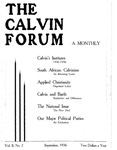 Title
Description
CONTENTS - Vol. II No. 2, SEPTEMBER, 1936
EDITORIALS
27 - The Coming Presidential Election
27 - Once More Comes Labor Day
28 - Four Hundred Years Ago
28 - Sphere Sovereignty and Liberty
28 - Sphere Sovereignty and Philosophy
29 - Evangelical Women, Unite
29 - Is It True?
29 - Soil Conservation
ARTICLES
30 - John Calvin's Institutes - Then and Now. By H. Henry Meeter, Th.D.
33 - We in South Africa. By J. Christian Coetzee, Ph.D.
35 - Labor Conditions and Practical Christianity. By Albertus Pieters, D.D.
37 - Karl Barth and John Calvin. By William T. Riviere, D.D.
40 - An Approach to the New Deal. By Henry J. Ryskamp, Ph.D.
42 - Our Two Major Parties - An Interpretation. By Peter Hoekstra, Ph.D.
BOOK REVIEWS
45 - Independency and Reformed Polity
45 - Man - Science - Telepathy - Miracles
46 - Christian Help on Moral Questions
47 - Het Reveil in Nederland
VERSE
36 - My Choice
39 - As Calvin
47 - John Calvin - Man of God
Managing Editor
Clarence Bouma
Recommended Citation
Calvin College and Seminary, "The Calvin Forum" (1936). The Calvin Forum (1935-1956). 14.
https://digitalcommons.calvin.edu/calvin_forum/14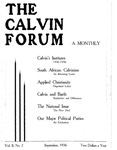 COinS