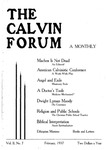 Title
Description
CONTENTS - Vol. II. No. 7, FEBRUARY, 1937
EDITORIALS
147 - They Buried Machen But His Soul Goes Marching On
147 - Back to a God-Centered Outlook on Life
147 - The Federal Council Indicts Itself
148 - American Calvinistic Conference in New York City, 1939
148 - Biblicism and Scripturism
149 - Renewed Interest in the Church
149 - Russia's Lesson
ARTICLES
150 - Calvinistic Conference for 1939
151 - Pearl Buck Paints Her Parents. By Marianne Vos Radius, A.M.
153 - Medicine and the M·achine Age. By Martin Batts, Jr., M.D.
156 - Dwight Lyman Moody. By Diedrich H. Kromminga, Th.B.
158 - Projecting Christianity Into the Public School. By Leonard Gernant, A.M.
161 - Darbyism, Premillennialism, and Spiritualization. By Gerrit H. Hospers, D.D.
164 - The Future of Missions in Ethiopia. By John A. Cremer, M.D.
BOOK REVIEWS
165 - The Living Christian Faith
165 - A Valuable Life of Christ
166 - A Dutch Commentary on Galatians
166 - Sketches on Current Sects
166 - Mission Church Architecture
166 - Calvinism in Hungary
167 - God Has Spoken and Will Speak
167 - On the Heidelberg Catechism
167 - Roads - Which Way?
167 - Dwight L. Moody
VERSE
155 - Winter Blessing
160 - Whenever
160 - Final Exodus
Managing Editor
Clarence Bouma
Recommended Citation
Calvin College and Seminary, "The Calvin Forum" (1937). The Calvin Forum (1935-1956). 19.
https://digitalcommons.calvin.edu/calvin_forum/19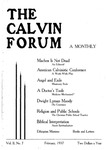 COinS