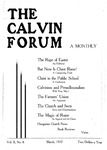 Title
Description
CONTENTS -Vol. II. No. 8, MARCH, 1937
EDITORIALS
171 - The Rape of Easter
171 - A Vain Day of Atonement
171 - Back to the Empty Tomb
Economics and Ethics
172 - Three Basic Economic Principles
173 - Economic Platform of Dutch Calvinists
173 - Educational Formalism
173 - Historical Rooms
ARTICLES
174 - If Christ Be Not Risen. By Jacob T. Hoogstra, Th.D.
177 - Christian Teaching in the Public School. A Confession. By Mark Fakkema, A.M.
180 - Calvinism and Premillennialism. By R. I. Campbell
182 - The Farmers' Union. By John G. Van Dyke, Th.M
184 - The Church and the Sects. A Comparison of Concepts. By John Bovenkerk
188 - The Magic of Rome. By Albert Piersma
189 - News from the Hungiarian Church Front. By Lou'is Nanassy, S.T.D.
BOOK REVIEWS
190 - Passion Studies
190 - Easter Lore
191 - Lenten Reading
191 - The All-Sufficient Christ
191 - Missions and the New Tescament
191 - Human Derelicts
192 - December Roses
192 - Church History Chart
192 - Calvary and the Problem of Evil
VERSE
173 - Now Let Me Wait
176 - Death On a Tree
179 - The Lance, Entering
187 - Youth Dying
Managing Editor
Clarence Bouma
Recommended Citation
Calvin College and Seminary, "The Calvin Forum" (1937). The Calvin Forum (1935-1956). 20.
https://digitalcommons.calvin.edu/calvin_forum/20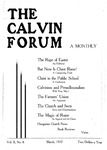 COinS