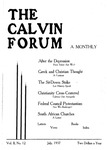 Title
Description
CONTENTS - Vol. II. No. 12, JULY, 1937
EDITORIALS
167 - Thou, Divisive Creed
267 - Convenience, The Sabbath Determinator
267 - The A. M. A. Yields
267 - The Christian Religion Indispensable
268 - Are We Sober?
268 - Times Still Change
268 - The Lesson of History
ARTICLES
269 - Grreco-Roman and Christian Ethics. By Henry Stob, Th.M.
272 - Communism and the Sit-Down Strike. By Albert Hyma, Ph.D.
275 - The Word of the Cross. By William Childs Robinson, A.M., Th.D.
278 - Is Protestantism Bankrupt? By Luther Craig Long
281 - The English Churches in South Africa. By J. Chr. Coetzee, M.Ed., D.Phil.
283 - LETTERS
BOOK REVIEWS
285 - Calvin's Institutes
285 - Dr. Maier's Radio Sermons
285 - Jesus Among Humans
286 - What Is Christianity?
286 - The Child, Nature, and God
VERSE
271 - To the Evolutionist
286 - Index to Volume II
Managing Editor
Clarence Bouma
Recommended Citation
Calvin College and Seminary, "The Calvin Forum" (1937). The Calvin Forum (1935-1956). 24.
https://digitalcommons.calvin.edu/calvin_forum/24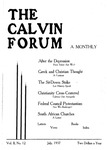 COinS