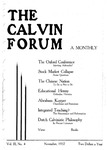 Title
Description
CONTENTS - Vol. III. No. 4, NOVEMBER, 1937
EDITORIALS
75 - The Oxford Conference Dies!
75 - The System vs. the Individual
76 - Must We Remain Mute?
76 - Accounting-to Whom?
76 - Unemployment and the Span of Life
77 - The Stock Market Decline
ARTICLES
78 - Can the Chinese Nation Survive? By Harry A. Dykstra, A.M.
82 - Educational Heresy. By Ralph Stob, Ph.D.
85 - Dr. Abraham Kuyper as Churchman. By Samuel Volbeda, Th.D.
88 - Kuyper's Significance for Christian Politics. By Dr. J. W. Notenboom
91 - Renaissance and Reformation Teaching - Was It Integrated? By Henry Van Zyl, Ph.D.
RECENT DUTCH CALVINISTIC PHILOSOPHY -Review of Its Literature. By Clarence Bouma, A.M., Th.D.
93 - Dr. Vollenhoven's Book.
94 - Dooyeweerd's Magnum Opus
94 - A New Philosophical Magazine
94 Defense and Attack
95 - Reformation or Deformation?
95 - A New Theological Weekly: Credo
OTHER BOOKS REVIEWED 96 - More Sermons by Karl Heim
96 - A Christian Jew on Jesus
96 - Studies in John's Writings
96 - Miracle Sermons
96 - Sunday School Lesson helps
VERSE
84 - The Valley of the Shadow
84 - November
90 - Broken
90 - Gold and Autumn Trees
Managing Editor
Clarence Bouma
Recommended Citation
Calvin College and Seminary, "The Calvin Forum" (1937). The Calvin Forum (1935-1956). 28.
https://digitalcommons.calvin.edu/calvin_forum/28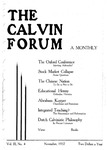 COinS