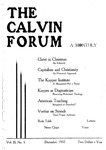 Title
Description
CONTENTS - Vol. III. No. 5, DECEMBER, 1937
EDITORIAL
99 - Christmas, Christ, and Incarnation
ARTICLES
101 - Christianity and Capitalism. By Albert Hyma, Ph.D.
104 - Dr. Kuyper and the Revival of Calvinistic Doctrine. By Louis Berkhof, B.D.
107 - The Dr. Kuyper Institute. By Dr. C. Beekenkamp
110 - Present-Day Teaching in the United States. By Henry Van Zyl, Ph.D.
112 - Voetius on Synodical Authority. By Samuel Volbeda, Th.D.
THIS MONTH'S BOOK TABLE
115 - Science and Genesis
115 - The Common Grace Issue
115 - On the History of Dogma
116 - On the Christian Faith
116 - The Trinity
116 - Books in Brief
LETTERS AND CORRESPONDENCE
117 - An Editorial Chat
119 - An Eastern News Letter
120 - RELIGIOUS NEWS CHIPS
VERSE
100 - Toll
100 - Volcano
100 - Give Us a Burden
100 - Let Him In
106 - Come Ye Apart
109 - The Soapbox Orator
Managing Editor
Clarence Bouma
Recommended Citation
Calvin College and Seminary, "The Calvin Forum" (1937). The Calvin Forum (1935-1956). 29.
https://digitalcommons.calvin.edu/calvin_forum/29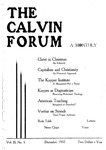 COinS