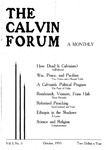 Title
Description
CONTENTS - Vol. I. No. 3, OCTOBER, 1935
EDITORIALS
51 - How Dead Is Calvinism?
52 - Crime and God
52 - Chapman on Dante
ARTICLES
53 - The Church and Peace. By Bernard J. Mulder, D.D.
55 - The Modern Pacifism Movement.· By John Bovenkerk
58 - Our Readers Have the Floor. On War and Peace
59 - A Calvinistic Political Program. By Henry J. Ryskamp, Ph.D.
62 - Rembrandt, Vermeer, Frans Hals. By H.J. Van Andel, A.M.
63 - Reformed Preaching. By P. A. Hoekstra
66 - Ethiopia in the Shadows. By John A. Cremer, M.D.
67 - Science and Religion Complementary. By John B. Schoolland, A.M.
70 - CORRESPONDENCE
BOOK REVIEWS
71 - The Delights of Poetry
71 - Peter Brueghel Novelized
71 - Recent Dutch Fiction
71 - With Psychopaths
72- The Religious Situation in Germany
72 - Glimpses of Russia
72 - South America
VERSE
57 - Leaves
69 - The Defaced Image
70 - Autumn on the Hill
Publication Date
10-1-1935
Managing Editor
Clarence Bouma
Recommended Citation
Calvin College and Seminary, "The Calvin Forum" (1935). The Calvin Forum (1935-1956). 3.
https://digitalcommons.calvin.edu/calvin_forum/3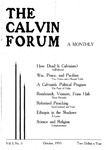 COinS