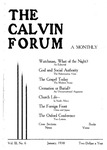 Title
Description
CONTENTS - Vol. III. No. 6, JANUARY, 1938
EDITORIAL
123 - Watchman, What of the Night?
125 - Colijn Not a Liberal, but a Calvinist
ARTICLES
126 - The Reformation and Social Authority. By Jesse De Boer, A.M.
128 - The Gospel in the Twentieth Century. By C. Huissen
130 - Cremation. By Gerrit H. Hospers, D.D.
133 - The English Churches in South Africa. By J. Chr. Coetzee, M.Ed., D.Phil
135 - Rambles Along the Foreign Front. By Peter Hoekstra, Ph.D.
136 - China's Extinction Looms Up. By Lee S. Huizenga, M.D.
137 - CROSS SECTIONS OF LIFE AND THOUGHT. By the Editor
CORRESPONDENCE
139 - The Oxford Conference: A Letter and a Reply
141 - A Letter from India
THIS MONTH'S BOOK TABLE
142 - A Doctor's Thesis on Kuyper
142 - Rural America and the Church
143 - The Mountaineers Need Christ
143 - RELIGIOUS NEWS
VERSE
125 - Old Year
125 - New Year
132 - Consolation
132 - Woods in Winter
141 - He Has Not Turned Away
Managing Editor
Clarence Bouma
Recommended Citation
Calvin College and Seminary, "The Calvin Forum" (1938). The Calvin Forum (1935-1956). 30.
https://digitalcommons.calvin.edu/calvin_forum/30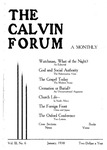 COinS