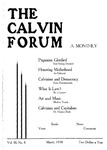 Title
Description
CONTENTS - Vol. III. No. 8, MARCH, 1938
EDITORIALS
171 - Is Christian Soul-Saving Cheap Rascality?
172 - Martin Niemoller and Martin Luther
173 - Paging a Preview of Pageant
173- Prayer as Psychological Exercise
174 - Lowering of Theological Standards
174 - Honoring Motherhood
ARTICLES
175 - Government Glorification of Paganism-A Report
177 - Calvinism and Democracy. By Johannes Zandstra, Ph.D.
180 - A Theory of Law. By Dorr Kuizema, LL.B.183 - Modern Trends in Art and Music. By Henry J. Van Andel, A.M.
185 - Calvinism and Capitalism. Dr. Hyma Writes a Significant Book. By Clarence Bouma, A.M., Th.D.
BOOKS
187 - The Imitation of Christ
188 - The Grace of God
189 - The Passion of Christ
189 - Proper Use of Scripture Proof
189 - Jonathan Edwards
190 - Christian Character Training
190 - Marriage
191 - RELIGIOUS NEWS AND COMMENTS. By H. S
VERSE
184 - Sin-Grace
184 - Vapor
190 - March Song
Managing Editor
Clarence Bouma
Recommended Citation
Calvin College and Seminary, "The Calvin Forum" (1938). The Calvin Forum (1935-1956). 32.
https://digitalcommons.calvin.edu/calvin_forum/32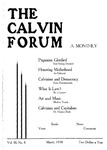 COinS