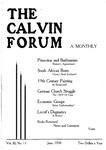 Title
Description
CONTENTS - Vol. III, No. 11, JUNE, 1938
EDITORIAL
243 - Princeton, Barthianism, and Brunner
246 - Realistic Fiction and Godless Propaganda
246 - Modern Art and Cliristian Standards
247 - Studying Calvinism in its Deeper Implications
ARTICLES
247 - The Voortrekkers of South Africa. By J. Chr. Coetzee, D.Phil.
251 - Schools of Nineteenth Century Painting. By Henry J. Van Andel, A.M.
253 - The German Church Crisis. By Leonard De Moor, Ph.D.
256 - Toward Understanding. By Henry J. Ryskamp, Ph.D.
258 - Professor Lecerf on Religious Knowledge. By Jacob T. Hoogstra, Th.D.
BOOK REVIEWS
260 - Psychology and Pastoral Care
260 - Calvinistic Philosophy Club
261 - On Inspiration
261 - An Expose of Liberalism
261 - Organizer of American Presbyterianism
262 - A Lenski Commentary
262 - A New Testament Introduction
262 - Monkey Mileage
262 - Paul
NEWS AND COMMENTS
262 - Nether lands Church News
263 - Religious News Items
VERSE
257 - Light in Darkness
Managing Editor
Clarence Bouma
Recommended Citation
Calvin College and Seminary, "The Calvin Forum" (1938). The Calvin Forum (1935-1956). 35.
https://digitalcommons.calvin.edu/calvin_forum/35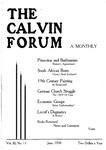 COinS