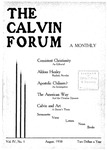 Title
Description
CONTENTS - Vol. IV, No. 1, AUGUST, 1938
EDITORIALS
3 - Consistent Christianity
5 - Four "Republican" Principles
ARTICLES
6 - Aldous Huxley. By Jacob G. Vanden Bosch, A.M.
9 - Chiliasm in the Writings of the Apostolic Fathers. By Albertus Pieters, D.D.
12 - "The American Way." By Henry J. Ryskamp, Ph.D.
14 - A Conservative and Aggressive Church. By Leonard Greenway, Th.M.
15 - Calvin and Art: A Review. By Jacob T. Hoogstra, Th.D.
CORRESPONDENCE AND NEWS
17 - Calvinistic Study Club
17 - India's Untouchables
18 - A Hungarian-American Voice
18 - At the Foot of the Himalayas
19 - Netherlands Cliurch Items
20 - American News Items and Comments
BOOKS
21 - Jeremiah Come to Life
22 - A Book for Teachers
22 - Jesus as Shepherd
23 - Jesus as Pastor
23 - The Gospel and Pastoral Care
23 - Dr. Maier's Radio Addresses
24 - Protestant Principles and. Leaders
24 - Saul, David, and Solomon
24 - Book Notices
VERSE
11- Renewal
14 - God Rules
16 - The Lake
Managing Editor
Clarence Bouma
Recommended Citation
Calvin College and Seminary, "The Calvin Forum" (1938). The Calvin Forum (1935-1956). 37.
https://digitalcommons.calvin.edu/calvin_forum/37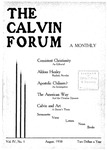 COinS