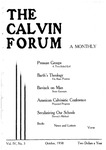 Title
Description
CONTENTS - Vol. IV, No. 3, OCTOBER, 1938
EDITORIALS
51 - Group Pressure: A Two-Sided Evil
52 - "Gott Mit Uns"
53 - Not Aquinas, but Calvin and Kuyper
54 - Queen Wilhelmina and Dutch Calvinism
54 - One Generation Passeth Away
54 - The American Calvinistic Conference for 1909
ARTICLES
55 - The Theology of Karl Barth: His Basic Position. By Diedrich H. Kromminga, Th.B.
60 - Bavinck's Conception of Man. By Walter Van Saun, Ph.D.
62 - The Blue Fringe. By William T. Riviere, D.D.
63 - American Calvinistic Conference
65 - More Secularization of Our Schools. By Henry Van Zyl, Ph.D.
BOOKS REVIEWED
67 - Evaluating Recent American Fiction
67 - A Humanist on Current Fiction
68 - America's Small Sects
68 - A Sound Apologetic
69 - Suffering from Seven-itis
69 - God's Plan
69 - Evangelistic Sermons
69 - Fresh Sermons
69 - Sunday School Lesson Helps
CORRESPONDENCE AND NEWS
70 - A London Letter
70 - Netherlands Church News
71 - A Glimpse of Hungarian Calvinism
72 - News and Comments
VERSE
59 - We Are of God
59 - Rest in God
59 - The All-Seeing Eye
Managing Editor
Clarence Bouma
Recommended Citation
Calvin College and Seminary, "The Calvin Forum" (1938). The Calvin Forum (1935-1956). 39.
https://digitalcommons.calvin.edu/calvin_forum/39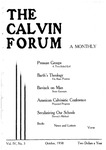 COinS