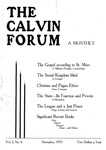 Title
Description
CONTENTS - Vol. I. No. 4, NOVEMBER, 1935
EDITORIALS
75 - To A Creed
75 - "Be A Good Neighbor"
75 - Armistice Day
75 - Peace At Any Price?
76 - On Murdering Bach
76 - Thirty Million Jitters
ARTICLES
76 - The Gospel According to St. Mars. By John J. De Boer, A.M.
79 - The Social Concepition of the Kingdom. By Louis Berkhof, B.D.
82 - Christian and Pagan Ethics. By Gordon H. Clark, Ph.D.
85 - The State - Its Proper Function and Powers. By Peter Hoekstra, Ph.D.
88 - The League and a Just Peace. By Dorr Kuizema, LL.D.
89 - What Our Readers Think
90 - Reflections on Mysticism. By Jesse De Boer, A.M.
BOOK REVIEWS
91 - The Mind of Jesus
92 - Abraham Kuyper on Revelation
92 - Dutch Anabaptism and Liberalism
92 - Christian Truth and Ancient Culture
93 - Debunking "Applied Psychologists"
94 - A Taste of the King's English
94 - lnternational Calvinism
95 - Government and! Private Control
VERSE
81 - More Comfortable
88 - Of Beauty
95 - The Silent Sacrament
Managing Editor
Clarence Bouma
Recommended Citation
Calvin College and Seminary, "The Calvin Forum" (1935). The Calvin Forum (1935-1956). 4.
https://digitalcommons.calvin.edu/calvin_forum/4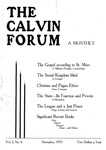 COinS