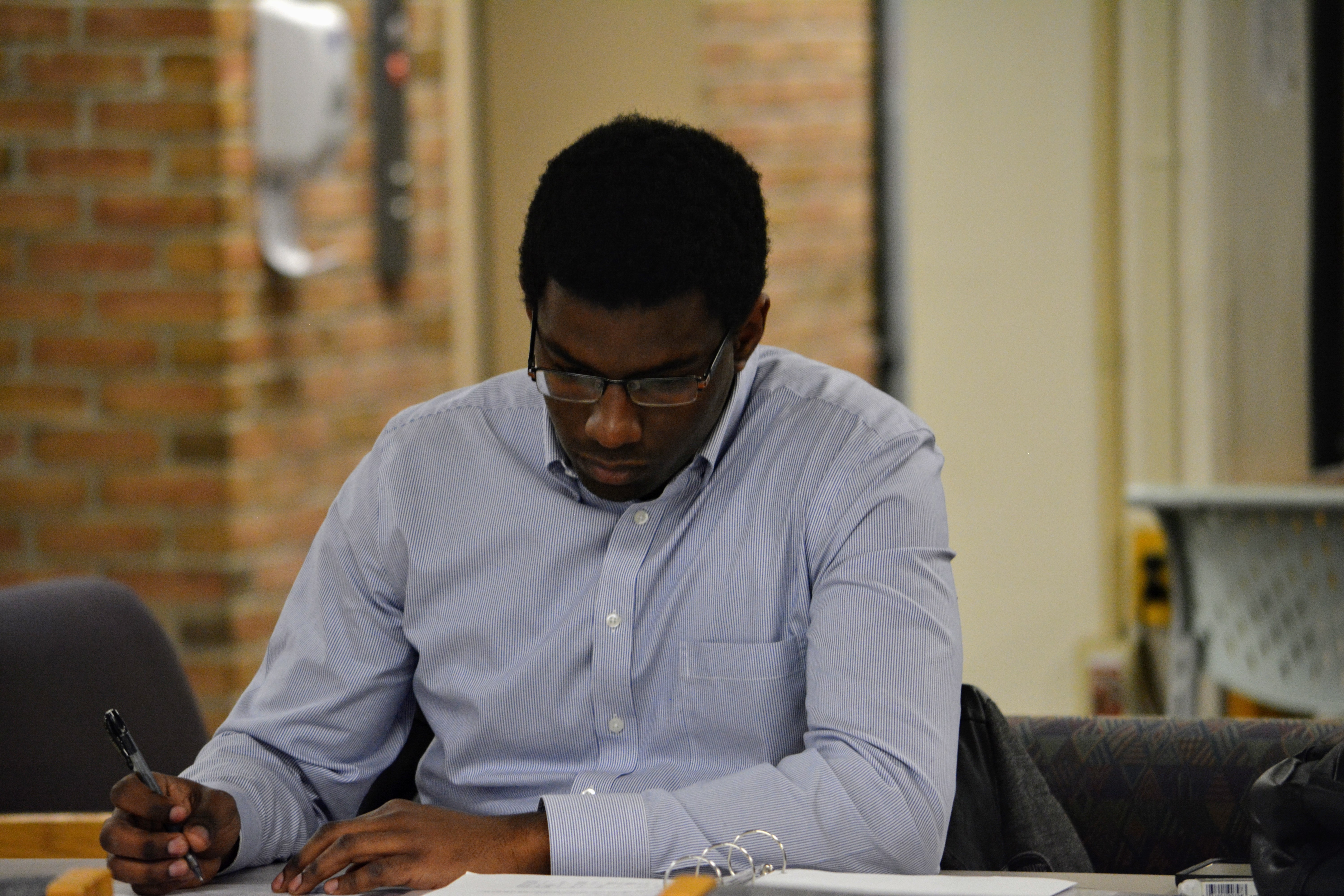 This section provides access to various works of student scholarship and student publications from Calvin Theological Seminary and Calvin University. These range from papers submitted for competitions, poster presentations, undergraduate research, and a capstone or culminating work for a seminary or university degree. The views and opinions expressed in these works are those of the authors and do not necessarily reflect the official policy or position of Calvin University, Calvin Theological Seminary, or its funders.
Works from 2022
Songs of the Son: Exegetical Method, Christology, and Piety in Reformation and Post-reformation Interpretations of Select Messianic Psalms, Maarten Kuivenhoven, Calvin Theological Seminary

The case for continuity between the Reformation and Reformed Orthodoxy receives a significant contribution from the examination of select Messianic Psalms in the commentaries of Wolfgang Musculus, William Ames, Johannes Cocceius, and Matthew Henry. This contribution is found through the examination of three lines of thought— exegetical method, Christological development, and the formulation of piety.
The consistent employment of prophecy in order to understand the sensus literalis as the Christological reading of the text seems to indicate continuity. The usage of typology also furthers this argument as these interpreters identified various persons or objects as types of Christ. By using the analogia fidei, they were able to demonstrate the New Testament fulfillment of the prophecies and types that were identified in the Psalms. Finally, the fairly consistent ...
Works from 2021
Dialogue, Staff and writers of Dialogue, Calvin University

Vol. 53, no. 2 (Spring 2021)
Music
1. Vincent Andrews - Intro-vert 07:13
2. Joel Prensner - A Walk in the Dunes 02:24
3. William VanZytveld - I Sought The Lord 02:20
4. David Cremer - Do Not Put Your Trust In Princes (Psalm 146) 03:38
5. Vincent Andrews - Untitled 37 04:21
6. Gresham Bergeron - All I Need 03:31
7. Timothy Lane Stephens - "Veggietales Type Beat" 02:02
8. William VanZytveld - Invention in A Major 01:30
9. Vincent Andrews - Untitled 38 02:42
Short Films
Hope (short film)
The Red Night Sky (short film) - film about the eruption of Kīlauea volcano eruption in 2018.
Magic Show (short film)
Ghouls 'n Ghosts (music video)
The Drop-Off (short film) - written and directed by Max Stallin...

A Reexamination of Deborah as Prophet and Judge, Brandy Scritchfield, Calvin Theological Seminary


This study aims to set aside gender concerns related to Deborah and the interpretation of Judges 4–5 in order to determine if a clearer portrait emerges of Deborah as a prophet, a judge, or both without gender issues obscuring the picture. Chapter 1 provides a representative summary of Deborah's interpretive history, which establishes how gender has been historically and incorrectly used as the primary interpretive key for understanding Deborah and other key parts of Judg 4–5. Chapter 2 discusses Deborah's role as a judge and determines the text supports identifying her with this title, and chapter 3 does the same for Deborah's role as a prophet. As a result of chapters 2–3, Deborah's role as a prophet is seen solving many of the interpretive challenges of the text in Judges 4–5. In conclusion, this study claims while Deborah was certainly a woman, the preoccupation with her gender of...

One in the Spirit: An Exploration of and Movement Toward the Theology Behind Acceptance of, Affirmation of, and Advocacy for Transgender People in the Church, Jo Newton, Calvin University
...

Works from 2019

Augustine's Privation Theory of Evil, Emily Jiang, Calvin University
...

Human Freedom and the invisible Church From the Viewpoint of Bavinck's Pneumatology, Dong-Yaul Tae, CalvinTheological Seminary


Although Reformed pneumatology is generally recognized by scholars of Calvin and Reformed confessions to be relatively well developed compared to the various pneumatologies of the Western theological tradition, it faces two important challenges. First, Reformed pneumatology is directly linked to the critique that Reformed soteriology's accentuation of predestination and effectual grace leads to inevitable fatalism that ignores human freedom. This is because the ministry of the Holy Spirit is crucial in the Reformed understanding of the order of salvation beginning with regeneration and ending with glorification. Second, because the ministry of the Holy Spirit is a key to understanding Reformed ecclesiology, and according to Reformed ecclesiology, the invisible church is a realization by the Holy Spirit and the Word of divine election, the criticism that the distinction in Reformed ecc...

Mathematics of the Infinite God in the Works of Nicholas of Cusa, Lauren Henderson, Calvin University


The geometrical analyses of infinity exemplified in the work of Nicholas of Cusa can aid in understanding the complex nature of God's attributes, specifically the perceived tension between his simplicity and his quality of encompassing and upholding all things.

...

The Oppressed and the Oppressors in the Fourth Gospel: A Postcolonial Reading, Joshua Polanski, Calvin University
...

Works from 2018

Dialogue, Staff and writers of Dialogue



Vol. 51, no. 1 (Fall 2018)

Prose
10 Favoritism murmured some - Juliana Knot; 16 House Show (Spring 2017) - Daniel Howard Hickey; 18 Hessel - Patrick Jonker; 32 A Eulogy for an Automobile - Garrett Strpko; 44 Like Gravity, Like Breath - J. Andrew Gilbert; 52 Narrow Shadows - Abby Jonker

Visual Art
12 Breast Mug - Jamie Whitten; 14 Winter Camellia - Grace Yang; 21 Season of Hope - David A.Jones; 22 Papillon 001 - Madeleine Wiering; 23 Papillon 002 - Madeleine Wiering; 24 Bitter Rebellion - Gracie Smith; 30 Pulled - Grace Einfeld; 37 Mama Afrika - Mayva Elizabeth Anyango; 38 The Bitter End - Avery Gill; 41 Mae Alese - Jensine Owens; 42 Punalu'u - Addie Winkelman; 47 ...

Dialogue, Staff and writers of Dialogue


Writing
6 As(k)1boyas1 - Peter Wagenmaker; 9 The Refinement of the Jedi - Derrick Kamp; 14 When it rains the sky speaks with the trees - Patrick Jonker; 17 Mary had a Little Lamb - Yolanda Chow; 22 Applesauce Peter Wagenmaker; 25 Mencolek - Lauren Moose; 29 Stigmata- Emily Joy Stroble; 35 Steadfast - Alexandra Johnson; 39 Sun and thunder - Patrick Jonker; 44 Lunar Cycle - Connor Bechler; 47 If Truth is a Vice, Then We are Humanity - Ethan Hohn; 52 Bacchanalia - Maia Madrid; 55 for Cutie, Track 10 - Molly J. Vander Werp


Film
Une Carte Postale de Grenoble - Hannah Kaylor; Unscripted - Nathan Meyer and Julia Verstraete; Quelques Livres Autour de Calvin - Annake VandeBrake; The Documentary Stephen Ng; An Etymologist's Dream - Anna Van De Griend

Music
Waking Tears Peter Wagenmaker; Dear You Madeleine Wiering; Na...

Law and Religion in Alliance: Guido De Bres and the Restriction of Religious Liberty, Antoine Theron, CalvinTheological Seminary


This study investigates why the Dutch reformer Guido De Bres believed that the law should restrict religious liberty. In other words, why did De Bres believe that political rulers should not tolerate religious liberty? The answer developed in this dissertation is that De Bres's restrictive view of religious liberty was largely the result of his vision of an alliance between law and religion. De Bres's vision of an alliance between law and religion was his theological response to the acute challenge of his concrete historical (political, social) context. De Bres's vision offered a solution to the desperate plight of the Reformed in their political context in the Netherlands: an alliance between the Dutch Reformed churches and the Dutch nobles would protect the Reformed believers against the intense persecution by royal Catholicism. However, the theological and practical dimensions of D...

The Idea of the Fall of the Devil in the Theology of St. Anselm of Canterbury, Hannah Gritter, Calvin University
...

The Metaphysics of the Eudaimonological Argument., James H. Joiner, CalvinTheological Seminary


This work gives attention to a trajectory that attempts to chart a course from the human quest for happiness and ultimately arrives at a transcendent, universal terminus or summum bonum as the natural end of this quest. This trajectory of ascent has given rise to a specific kind of project in natural theology; namely, the Eudaimonological Argument. Herein I set out to defend the analysis and development of the thought of Thomas Aquinas on this ascent by the 20th century Neoscholastic, Réginald Garrigou-Lagrange (1877–1964). The central thesis contends that Garrigou's Eudaimonological Argument represents a viable project in natural theology within the Thomist tradition when properly understood in light of its underlying metaphysical principles, specifically formal and final causality. To support this contention, attention is first given to Augustine's account of happiness and its poten...

The Parable of the Workers in the Vineyard., Elena van Stee, Calvin University
...

The Pastoral Use of the Virgin Mary in St. Ambrose, Joshua Polanski, Calvin University
...

Works from 2017

Dialogue, Staff and writers of Dialogue


Visual Art
5 Stacked & Packed Emma Carpenter; 8 Supine Jacob Bol; 10 past tense Kendra Larsen; 13 Multiplicand Allie Tuit; 14 laundry day Ashley deRamos; 16 Draped Laura De Vries; 19 Hanhok - Beauty of Korea Lynn Park; 20 Collage Grace Einfeld; 22 skin Claire Shigeno Murashima; 25 Fifty-Nine Melanie Berends; 26 Yves Gene Hill; 27 Au Boy Mimi Mutesa; 29 Rene Magritte for Realists Molly J. Vander Werp; 30 growing pains Kendra Larsen; 32 Wild Youth Jacob Bol; 35 Horns Morgan Anderson; 36 Chemical Imbalance Madeline Smit; 40 Landscape Melanie Berends; 42 burdensome McKinley Anderson; 44 Jawbone Gene Hill; 45 Flatboi Emma Carpenter; 46 Pandemonium Madeline Smit; 49 Lollipop Madeleine Wiering; 50 Study of Fragility I & II J. Andrew Gilbert; 52 Lines Hannah Van't Hof; 54 Pure White Arianna Koeman; 57 Drought Anna Van De Griend

Film
Un Long Week-...

Dialogue, Staff and writers of Dialogue


Visual Art
5 Home is Here Kayla McLean; 6 The Building Wall Jaclyn Kuyers; 8 hypo-chon-dri-a Daniel Howard Hickey; 10 Sunlight Is My Favorite Color Mimi Mutesa; 14 Wander Anna Nicole Asfour; 17 Isolation J. Andrew Gilbert; 18 Cygnus Carlie Bergsma; 21 Batik Cup Rebekah Inman; 22 Horizante Paige Van Drunen; 26 Layered 1 & 2 Jaclyn Kuyers; 28 Pouring Plate June Tsujimoto; 30 Slow Locomotion Madeline Smit; 33 lntrastructure Emma Carpenter; 34 Flowers & You Kendra Larsen; 36 Unraveling June Tsujimoto; 38 Bold Emily Annett; 42 Cage Corrie VanderBrug; 44 Energy Corrie VanderBrug; 46 Illusion Jenna Atma; 47 Peaks & Basin Jenna Atma; 49 Surface Harrison Rice; 50 Roots Timothy Dykhuis; 52 Bigbloc & Bigthrow Isaiah LaGrand; 56 Ebb and Flow Blake Staat; 59 Ice Cream Isaiah LaGrand

Film
Look What He Has Done Sebastian Larsen; Remember Me J. Andrew Gi...

Authority and Meaning in a Brave New World: Postconservative Evangelical theological Method After the Cultural-Linguistic Turn, Jeffrey Halsted, CalvinTheological Seminary


This dissertation fills a gap in the current scholarship by describing Stanley Grenz's and Kevin Vanhoozer's postconservative evangelical understandings of authority, meaning, and truth as they are related to Scripture and the community of faith. Acknowledging the postliberal influence of George Lindbeck, scholarship is further needed to describe whether theological authority ultimately rests in Scripture or the community of faith. Furthermore, scholarship needs to address the manner in which we seek, participate in, or determine meaning and truth within postconservative evangelical theological method. This dissertation provides this scholarship for Grenz's and Vanhoozer's thought while also providing a more extensive description of Vanhoozer's canonical-linguistic method and its relationship to the questions of authority, meaning and truth than is available elsewhere in a single w...

Spirit Determinism in the Christian Anthropology of Yorù̀bá indigenous Churches, Bernard T. Ayọ̀ọlá, CalvinTheological Seminary


There are people who think everything in life is an accident. Then, there are the Yorùbá of Southwestern Nigeria who believe that life outcomes are prearranged by the Supreme Being but may also be altered, for better or for worse, by the spirit beings in the universe. Yorùbá Christians, like their non-Christian kin, believe that many experiences in life are manifestations of the activities of the superhuman spirit beings in the community. While the good spirits (such as ancestors and angels) ordinarily have positive impacts on society, the evil spirits (such as witches, wizards, and demons) often work in collaboration with one another to thwart human aspirations and life goals. This dissertation examines the Yorùbá Christian notion of human identity within the framework of traditional Yorùbá perception of the world as a spiritual space where the living and the dead--human and non-huma...

Unearned Suffering Is Redemptive: the Roots and Implications of Martin Luther King, Jr.'s Redemptive Suffering theodicy, Mika Edmondson, CalvinTheological Seminary


This dissertation analyzes the roots and implications of Martin Luther King Jr.'s redemptive suffering theodicy, reconsidering its continued relevance to contemporary discussions about theodicy among black theologians and within the black church. Through his home and church influences, King inherited a nearly 250-year-old black redemptive suffering tradition that traces back to early Negro spirituals and abolitionist works. King carefully developed these traditional theodical themes through critical engagement with Protestant liberal sources before applying his redemptive suffering formula during the Civil Rights movement of the 1950s and 1960s. With a view towards the cross and the omnipotent personal God's good purposes in the world, King held that persons have the freedom and responsibility to agapically engage their suffering to help bring about personal and social transformation....

Works from 2016

Dialogue, Staff and writers of Dialogue


Visual Art
4 Smoke and Mirrors Harrison Rice; 6 Nesting Miriam Kornelis; 8 Palmitas Park Isaiah LaGrand; 10 The Pharaoh in Atlanta Mimi Mutesa; 13 Medersa Bou Inania Manato Thomas Jansen; 14 The Space Between Us Mark Randall; 16 Upwards Emily Annett; 20 Balance Michael Hsu; 23 Dots 1 Jaclyn Kuyers; 24 Folded Vessel Series Olivia Rozdolsky; 26 From Generation to Generation Luke Sturgis; 28 Prince ofWales Hotel Mark Randall; 30 Yield Emily Van Staalduinen; 32 Girl Mimi Mutesa; 37 Landscape Brenna Mahn; 38 2133819 Cotter Koopman; 42 Tethered Series Mark Randall; 45 Total Consciousness Emma Carpenter; 46 Portrait Brenna Mahn; 48 Suffocated Jaclyn Kuyers; 50 Lost in Superior Mark Randall; 53 Hollowed Mark Randall; 56 hazy mornings Hannah Van't Hof; 58 031016 Cotter Koopman

Film
Exploring Small Gregory Manni; Charlevoix Hailey ...

Dialogue, Staff and writers of Dialogue


Visual
5 Body Haze - Jaclyn Kuyers; 6 Mixed Media on Canvas - Kate Datema; 8 To Rise - Anna Delph; 10 exposure - Kendra Kamp; 13 Rebirth - Nathania Wijaya; 14 Deprived Spirit - Eun lee Cho; 17 Explorations in the Dark - Rebekah Jaroh; 18 Senecio Scaposus - Courtney Hill; 20 Echeveria Leucotricha - Courtney Hill; 22 Kite - Kendra Larsen; 25 Oil Spill - Corrie VanderBrug; 28 Promises to Keep - Jonathan Manni; 30 small miracles - Jenna Griffin; 32 Jet Black Heart- Jamie Whitten; 34 Bali, Indonesia - Kendra Larsen; 37 Reverse Landscape - Rebekah Inman; 38 Limbs - Jesus Delgado; 43 machina - Kendra Kamp; 44 Carrion - Caitlin Anne Smits; 48 Lonely Cappadocia - Nick D'Onofrio; 53 Vibrance - Nathania Wijaya; 54 Olvidado - Hope Hinken; 56 Magazine Figure Series - Jaclyn Kuyers

Text
4 To Daphne - Kenzie Krumm; 9 star noise - Taylor Hartson; 12 Mulc...

Driven By God: Active Justification and Definitive Sanctification in the Soteriology of Bavinck, Comrie, Witsius, and Kuyper., Jae-Eun Park, CalvinTheological Seminary


For more than two millennia believers have struggled with the antinomy of God's absolute sovereignty over and man's ultimate responsibility in justification and sanctification. For at least the past several hundred years theologians have used some version of the terms "active justification" and "definitive sanctification" in an attempt to illuminate this mystery. However, in the past decade scho lars have begun to criticize these concepts, saying that they are unsupported in Scripture, lead to theological confusion, and are of no practical benefit to believers. Through the work of theologians from the broader Dutch Reformed tradition, especially Herman Bavinck (1854-1921), Alexander Comrie (1706-1774), Herman Witsius (1636-1708), and Abraham Kuyper (1837-1920), this thesis will demonstrate that the terms active justification and definitive sanctification are derived from Scripture an...

Early Stuart Polemical Hermeneutics: andrew Willet's 1611 Romans Hexapla., Darren M. Pollock, CalvinTheological Seminary


Andrew Willet, a Cambridge-educated minister, began his writing career as a popular anti-Catholic polemicist (best known for the influential Synopsis Papismi) during Elizabeth I's reign. Early in the seventeenth century he shifted genres, writing a series of biblical commentaries using a distinctive six-fold method and earning a reputation as one of the country's best textual scholars. Willet suggested that the change to exegesis was a move from religious controversy to more irenic waters, and many scholars have taken him at his word, writing of his abandonment of polemics. An analysis of his 1611 hexapla commentary on Romans, however, reveals a distinct polemical lens, indicating that he did not so much abandon religious controversy as transfer it to a different genre. Interpreting Romans using this polemical hermeneutic served to sharpen Willet's distinctions and clarify his present...

Hebel' in Ecclesiastes : Abel as symbol referent, Gregory R. Vruggink, Calvin Theological Seminary


This work contends that Abel should be considered as a possible referent for hebel in some contexts in the book of Ecclesiastes. The attempt to rightly understand the usage of hebel has employed several translation philosophies, but the theory of hebel in Ecclesiastes as a metaphor functioning with multiple referents best explains the variety and complexity of its usage in Ecclesiastes. This thesis contends that Abel should be considered an additional referent in cases where the usage of hebel is framed by the concepts of death and transience, a relationship which is made stronger in nearby allusions to Gen 1-4 in Ecclesiastes.

...

Herman Bavinck between scholastic and modern psychology: toward a "reformed psychology.", Joohyun Kim, Calvin Theological Seminary


Bavinck completed his first psychology book, Principles of Psychology (Beginselen der Psychologie, 1897) in the middle of his theological writings from his interaction with the nineteenth century psychologies. In 1920, Bavinck published another psychology book entitled Biblical and Religious Psychology (Bijbelsche en Religieuze Psychologie) on the basis of solid exegesis and biblical principles. In Principles of Psychology, Bavinck intended that his psychological principles would be as worthy as the empirical psychology of his day. Kuyper also stressed the doctrinal value of faculty psychology to Bavinck's first psychology book in his review. Yet, these two psychology books were virtually neglected both in the field of psychology and in Reformed anthropology. What is more, scholars like Hepp and Jaarsma demonstrated that in his later years Bavinck rejected the scholastic faculty psych...

Paul Helm's "Compatibilist" View of Divine Providence in Light of the Frankfurtian Debate., Simon Sang-Kyun Ko, CalvinTheological Seminary


It is easy to find in prominent scholarly opinion today that to maintain its comprehensive divine determinism the Reformed Christian tradition must endorse metaphysical compatibilism to affirm some semblance of creaturely freedom. Arguably, one of the two Reformed scholars who have promulgated this idea the most is Paul Helm. Interestingly, while Helm's "no-risk" view of divine providence started off with pretty straightforward classical compatibilism, it has since morphed into what is akin to source incompatibilism. At the heart of this transformation is Helm's increasing interest in the feasibility of "irreducible agency, despite the fixity of the future" (or to use more technical lingo, "actual-sequence-indeterminism, despite alternate-sequence-compulsion"). Since 1969, the feasibility of such "irreducibly voluntary, yet having only one option for choosing" has also been rigorously...

Salvation By Faith: Faith, Covenant, and the Order of Salvation in Thomas Goodwin (1600-1680)., Hyo-Nam Kim, CalvinTheological Seminary


The doctrines of covenant, faith, and the order of salvation are crucial components of early modern Reformed soteriology. In seventeenth-century England, these three major doctrines of Reformed theology, which had been taken over undeveloped from the Reformers, took a mature shape, but aroused controversies among diverse Protestant groups. Modern historical scholarship on Reformed orthodoxy has produced little significant research that deals with these doctrines synthetically. The object of this dissertation is to explore the broader role of faith in relation to these two significant doctrines for salvation in the early modern Reformed theology, with specific reference to the thought of Thomas Goodwin. To this end, this study examines Goodwin's life to review his religious experience and to understand his socio-theological context. Goodwin's soteriology was sharpened by his battles on...

Sibrandus Lubbertus (1555-1625) and Reformed Polemics on Authority in the Church., Dave Holmlund, CalvinTheological Seminary


Sibrandus Lubbertus (1555-1625) was a German born Reformed theologian who spent most of his life teaching at the University of Franeker in Friesland, a northern region of the Netherlands. Among his publications, the most significant in size and importance were his disputational works, which used a polemical form to address controversial issues of the post-Reformation period in which he gave a robust defense of the Reformed position over and against the most influential voices of his day, whether they themselves were a more heterodox expression of Protestant theology or simply Roman Catholic. This dissertation examines the major treatises of Lubbertus, which were written to refute Robert Bellarmine, the great Jesuit apologist of the Roman Catholic Church during the Counter Reformation. Specifically, this dissertation argues that Lubbertus—who, in the past, has been largely ignored in b...

Theologia Viatorum: institutional Continuity and the Reception of a theological Framework From Franciscus Junius's De theologia Vera To Bernhardinus De Moor's Commentarius Perpetuus, Todd M. Rester, CalvinTheological Seminary


Some scholars have identified a certain amount of vagueness in continuity theses of scholarship regarding medieval, Reformation, and post-Reformation thought. A criterion of continuity is necessary in order to prosecute a continuity thesis. One way to root intellectual history within a particular social context over time is to examine a conceptual framework as it develops, changes, and even declines within an academic institution like an early modern university. Institutional continuity is a methodological approach that seeks to clarify the relationship between continuity, influence, confessionalization and deconfessionalization diachronically within an institutional context of an early modern university. The test case for this method is the prolegomenal framework of Franciscus Junius, as first propounded in De Theologia Vera (1594) and developed by various theologians at Leiden Unive...

Works from 2015

Dialogue, Staff and writers of Dialogue


Visual
Land of Enchantment - Maddy Wiering (cover); 4 Daybreak - Caitlin A Smits; 6 Backbone - Paola Koki; 8 Lake Effect - Hope Hinken; 11 Body Parts no. 2 - Jaclyn Kuyers; 12 cloud forest - Nathania Wijaya; 14 cosmos and chaos - Morgan Hayden; 16 Monument Valley - Brenna Mahn; 19 I Am Poor - Christina Weinman; 20 Home Trees - Sara Martinie; 22 Bodies Divided no. 3 - Sarah Bass; 24 Restrict/Revive - Whitney Badge; 27 Giraffe Trees - Brenna Mahn; 28 The Sky is the Limit - Mary Kosters31 Tessellate - Whitney Badge; 32 Las Salinas de Maras - Paige Van Drunen; 35 Secret Wishes - Mark Randall; 39 hand sketches - Morgan Hayden; 44 Pools - Whitney Badge; 47 Cleanse - Mark Randal I; 48 Bodies Divided no. 2 - Sarah Bass; 51 Truncated - Megan Grimm; 52 From the Elephant Cafe - Hailey Jansson; 53 Elephant Explorations - Quinn Bugner; 56 Pacaya - Hope Hinken; 58 waves - Martin...

Dialogue, Staff and writers of Dialogue


Prose
4 Kyle Einfeld, Excuse; 8 Coleson Smith, Check Engine Light (Abridged); 16 Erin Koster, E. Pluribus, Unum; 24 Kyle Einfeld, Desecration; 29 Rebekah Waalkes, A Likeness; 32 Julia LaPlaca, Ave; 36 Corry Remy, The Path to Loneliness; 39 Stephane Bradshaw, Frail
43 Rachel J. House, A Memoir of Blood and Water; 46 Lauren DeHaan, Reflections; 55 Jeff Peterson, If I Could Walk on the Ceiling

Visual Art
4 Zack Smidstra, Reaching Down; 13 Se Gyo Oh, A Wanted Connection; 14 Caitlin Smits, Chapter Four; 17 Jenna Griffin, Bird; 21 Sara Martinie, Tendonitis; 28 Caitlin Smits, Six Nude Studies; 33 Christina Vera, Six Pounds; 39 Christina Vera, Mirror Mirror; 54 Megan Grimm, My Bed; 59 Eunlee Cho, Orange Tree

Poetry
12 Rebekah Waalkes, Periphrasis; 15 Caitlin Gent, Watercolor; 20 Amanda Bublinec, Summer Solstice; 21 J...

Calvin's Eschatology in Its Historical and Exegetical Context., Takashi Yoshida, CalvinTheological Seminary


This study reveals both the variety and complexity of Calvin's eschatology by way of a historical and contextual approach. Against an ahistorical and dogmatic approach to Calvin, it discusses the necessity of locating and examining his eschatology in several contexts: theological and exegetical traditions, both his predecessors and contemporaries; variety of genre of his own works, from catechism to polemical treatise and biblical commentaries; and their chronological developments. Calvin's eschatology is basically traditional and owes much to the theological and spiritual heritage in the past. It is definitely, among others, in the Augustinian tradition though strongly characterized by his biblical and teleological emphasis, in which his own study of the book of the Romans seems to have played a significant role. This study also demonstrates that Calvin's teachings of last things ar...

Do not strike hands in pledge: comparative perspectives on surety for debt in Proverbs., Doren G. Snoek, Calvin Theological Seminary


Six proverbs on surety for debt present unique difficulties for interpreters of the Hebrew Bible. Because surety for debt is only occasionally mentioned, the inner-biblical data is hard-pressed to resolve the many differences of opinion. There is a large body of primary texts from the ancient Near East that indicates that surety was a widespread practice in a vast historical period. There is also a large body of secondary literature focused on these texts. The primary and secondary literature is sufficiently robust as to warrant a closer look from biblical scholars. This thesis argues that the extra-biblical texts elucidate the proverbs and presents a methodological framework by which the two sets of evidence may be compared. The bodies of evidence are large and similar enough to warrant a contextual method that assumes a common historical background. Both the proverbs and the ancient...

Elements of cultic prophecy in Psalm 75., Nielsen A. Tomazini, Calvin Theological Seminary


This work defends the thesis that Psalm 75 is the result of the participation of cult prophets in the worship of Israel. We argue that Gunkel's form critical method and Mowinckel's cult functional approach provides the necessary features to satisfactory explain the switches in speakers and addressees in this psalm. Additionally, we conclude that cultic prophecy is a valid approach to interpret the so-called "prophetic psalms" in the Psalter and, consequently, to interpret Psalm 75. In search for more arguments in defense of our thesis we use 2 Chronicles 20 as an example of the participation of prophets in a cultic situation in ancient Israel as well as Harry P. Nasuti's distinction between quoted and unquoted divine speech. After that we apply different exegetical methods in order to execute a close reading of Psalm 75 and thus we substantiate that the unquoted divine speeches in its...

Inscrutable Providence: the Doctrine of Divine Concurrence and the theology of Charles Hodge., Nathan J. Archer, CalvinTheological Seminary


This dissertation will discuss the doctrine of concurrence within the larger doctrine of providence. Although concurrence was once a key component of the doctrine of providence, it was difficult to maintain in a post-enlightenment theological and philosophical context, even for a Reformed thinker such as Charles Hodge. Although Hodge labored to explain the older formulation of this doctrine—especially as articulated by Francis Turretin—Hodge found concurrence problematic and did not commend its use. In addition to shifting philosophical sensibilities, concerns regarding pantheism were a significant reason why some nineteenth-century American Calvinists distanced themselves from concurrence. Nonetheless, Hodge's theology stands largely in continuity with Turretin and the echo of this doctrine continues in his theological system. For Hodge, the concept of the "efficient presence of God"...

Magic and Christianity in the acts of the apostles: the confrontation., Chandra Han, Calvin Theological Seminary


Magic is an intriguing topic in the New Testament but compared to other topics of discussion in New Testament Studies, the significance of the theme of magic has been unjustly undermined as indicated by David E.Aune. From the all eight occurrences of magic in the New Testament, four are found in the Acts of the Apostles. Therefore, the Acts of the Apostles is the most significant source to understand magic. The purpose of this thesis is to figure out the understanding of magic and Christianity in the Acts of the Apostles. Since Christianity flourished in the Greco-Roman era, the understanding of magic with its practices in the Greco-Roman era is significant in order to enlighten the serious confrontation between magic and Christianity in the Acts of the Apostles. The discovery of the Greek Magical Papyri (PGM: Papyri Graecae Magicae) has evidenced the practices of magic which is evil ...

Revelation as Primal Sensing: a theological investigation into the interaction Between Christian Faith and African Religious Traditions., Philip M. Wandawa, CalvinTheological Seminary


This dissertation fills a gap in African Christian thought regarding the relationship between Christian faith and African traditions. The gap is that—notwithstanding the light shed on the relationship by the debate within the threefold typology (exclusivism, inclusivism, pluralism)—there is ambivalence in African Christian thought regarding the value of African religious traditions for Christian faith. This ambivalence is sometimes expressed in complaints by theologians against what appears to be either "syncretism," "divided loyalties," "religious schizophrenia," or "double-mindedness" in African Christian religious experience and expression. In the view of this dissertation, the ambivalence in African Christian thought stems from the inability of the current debate to provide a broad ranging theological understanding of African traditions as a whole. Although the typology clarifies ...

The End of the Natural Law: Dietrich Bonhoeffer's Christological Ethics., Jordan J. Ballor, CalvinTheological Seminary


Dietrich Bonhoeffer (1906-1945) has often been understood as articulating an occasionalistic, divine-command theory of ethics. In this regard, he is often seen as aligned with Karl Barth (1886-1968). This study challenges this view by demonstrating that Bonhoeffer's own ethical project was aimed at resuscitating and reviving a distinctively Protestant form of natural-law thinking. Bonhoeffer's approach was characterized by an emphasis on the origin, formation, and goal of natural mandates in, by, and toward Jesus Christ. Bonhoeffer's early teaching concerning orders of preservation and laws of life was developed into a mature doctrine of divine mandates in his Ethics, which are best understood as Christologically defined manifestations of natural law. Christ is the "end" or telos of the natural law for Bonhoeffer, and in this way Bonhoeffer attempts to rehabilitate the concept of the ...

The Pactum Salutis in the theologies of Witsius, Owen, Dickson, Goodwin, and Cocceius., Byunghoon Woo, CalvinTheological Seminary


The doctrine of the pactum salutis (covenant of redemption) offers the idea of a covenant between the very persons of the Trinity for the redemption of humanity. The doctrine received most of its attention in seventeenth-century Reformed theology, but has been criticized and almost totally forgotten in dogmatics since the eighteenth century. Most of recent Reformed dogmatics, with very few exceptions, tend to ignore the doctrine or disparage it from biblical, trinitarian, christological, pneumatological, and soteriological perspectives—namely, the doctrine lacks scriptural basis; it is tritheistic; it leads to subordination of the Son; it omits the role of the Holy Spirit; and it applies a deterministic idea for the Christian life. The present study was designed not only to demonstrate the invalidity of these criticisms of the doctrine but also to point to its practical implications f...

Works from 2014

Dialogue, Staff and writers of Dialogue


Poetry
4 Jonathan Gorter, Rubin's Vase; 8 Jeffrey Peterson, Gaps; 20 Josiah Sleppy, An Easter Ode; 22 Casey McIntosh, My Organ Has Emphysema; 26 Josiah Kinney, To the Gentleman in the Urinal...; 30 Caitlin Gent, Visitation; 39 Josh Parks, Triskaidekaphobia; 43 James Li, The Good Country; 47 Erin Smith, Morning Altar

Visual Art
7 Se Gyo Oh, Scratched Away; 12 Christina Geating, Unkaged; 18 Sara Martinie, Fernweh; 23 Christina Vera, Tall Bumpy Pot; 27 Laura Hop, Coil; 31 Christina Vera, fidgets; 38 Caitlin Smits, Inner Portrait; 44 Laura Sheppard, Tram 47; 60 Molly DeDona, Girl in Box

Prose
6 James Li, Rat House; 13 Sadie Burgher, Burials; 16 Caitria Jade, Remember Me; 34 Rona Das, Ekta Sriti (A Memory); 35 Alex Bass, The Memory Hoarder; 46 Laura Sheppard, Trams of Budapest; 50 Katerina Parsons, Making a Living; 5...

Dialogue, Staff and writers of Dialogue


Prose
06 Jack Van Allsburg, Glory Breathes; 17 Neil Gilbert, The Empty Cage; 26 Alex Westenbroek, The Photo Albums; 38 Benjamin Rietema, Bowling; 50 Julia LaPlaca, When I Was A Child I Spoke Like a Child; 52 Kent Sanders, A Fish in the Freezer; 52 Cassie Westrate, A Note in a High School Year Book; 56 Corrin Baker, June 23rd - Leaving Home;

Visual Art
04 Anna Hanchett, Shoes; 10 Megan McCrary, Untitled; 11 Tanice Mast, Twig/Bill; 14 Kellan Day, Advent; 16 Anna Hanchett, Blood Orange Towels; 21 Maria Smilde, The Pardoner's Tale 2 - Continued on: 45; 22 Jade Acosta, Beef Wellington #1; 23 Joel Bulthuis, TomLigula II; 24 Kendra Kamp, Ostensible; 29 Anna Hanchett, Bread Tiles; 30 Dania Grevengoed, Bone of My Bones Continued on: 32, 34
; 37 Anna Hanchett, Drapery 2; 39 Katherine Nyczak, Untitled; 40 James Li, Phlebas; 42 Teunis Verwijs, Pe...

A critical examination of Justin Ukpong's inculturation hermeneutics., Matthew Lanser, Calvin Theological Seminary


The interpretation of the Bible in Africa is a broad and rapidly developing field, and also one that has attracted relatively little attention in the academy. While Justin's Ukpong's theory and method of biblical interpretation has generated significant discussion in the field, this study offers the first broad, critical examination of the internal coherence of Ukpong's inculturation hermeneutics and of its broader usefulness for the theory and practice of interpreting the Bible in Africa. I begin by describing the assumptions, method, and practice of Ukpong's inculturation hermeneutics. I proceed by using Schreiter's criteria for contextual theologies to evaluate the coherence of Ukpong's theory, method, and practice of biblical interpretation, and to assess the usefulness of his method and practice. While Ukpong's theory and practice are largely consistent, his model would benefit f...

"A Knot Worth Unloosing": the interpretation of the New Heavens and Earth in Seventeenth-Century England, John H. Duff, CalvinTheological Seminary


Scholars interested in the history of Christian eschatological thought have focused primarily on the theme of heaven or on the various interpretations of the thousand years mentioned in Revelation 20:1-6. Virtually no attention has been given to past interpretations of the biblical phrase the new heavens and earth. This dissertation uncovers the interpretations of this phrase that were extant in seventeenth-century England. These interpretations fall into two basic camps—those that understood the phrase metaphorically and those that understood the phrase literally. One group of English divines believed the new heavens and earth was a phrase referring to the new age of the gospel that commenced in the first century CE. Subsequent to the earthly ministry of Jesus, God flung open the doors of salvation to Gentiles while at the same time bringing judgment to the Jewish nation for its fail...

From the Fathers to Trent: An Examination into the Patristic Grounds for Transubstantiation, Klaas Walhout, Calvin University
...

God of Friendship: Herman Hoeksema's Unconditional Covenant Conception., Ronald L. Cammenga, Calvin Theological Seminary


This thesis is a study of the doctrine of the covenant of grace as developed by the Protestant Reformed theologian Herman Hoeksema (1886-1965). In the thesis I will focus particularly on Hoeksema's teaching that the covenant of grace is unconditional, both in its establishment and its maintenance. I will demonstrate that already in the early 1920s, while yet a minister in the Christian Reformed Church, Hoeksema's understanding of the covenant was impacted by his convictions concerning election. Throughout his lifetime Hoeksema never wavered from his fundamental view of the covenant of grace in its relationship to God's sovereign, gracious decree of election. Hoeksema formulated his views already in the early years of his ministry, especially in connection with his writing for the rubric "Our Doctrine" in the periodical of the Christian Reformed Church, the Banner. Hoeksema served as e...

Revelation 13 and the Imperial Cult, Chang In Sohn, Calvin University
...

Symphonia Catholica: the Merger of Patristic and Contemporary Sources in the theological Method of Amandus Polanus (1561-1610)., Byung Soo Han, CalvinTheological Seminary


This dissertation intends to answer, by investigating the merger of patristic and contemporary sources in the theological method of Amandus Polanus, a significant question concerning the way in which the intellectual and methodological eclecticism of the Reformed was able to establish a coherent "system" of thought capable of defense as not only confessional but also orthodox in its theology and broadly catholic, drawing both on the thought of the Reformers and on the resources of the great tradition of Christian thought that extended back to the church fathers. From a methodological perspective, Polanus's development from the Ramistically-organized doctrinal framework of the early Partitiones, through the increasingly detailed and specialized efforts of the commentaries, disputations, and Symphonia, indicates a fairly clear, concerted effort to build toward a detailed systematic pres...

The liturgical use of spiritual gifts: discerning next steps in contextual Nigerian practice., Emmanuel Saba Bileya, Calvin Theological Seminary


The use of spiritual gifts is a blessing to the Church today, especially when it functions within the liturgical forms in a worship service. Specifically, the liturgical use of spiritual gifts is a great benefit for the edification of both the mainline and the Pentecostal churches. In Nigeria, the use of spiritual gifts is significantly contextual to the African world view. Some Nigerian theologians suggest that the compatibility of spiritual gifts to the African world view is one of the main factors that contributes to the fast growth of Pentecostal and charismatic churches in Africa. Due to its compatibility with the African world view, charismata has gradually gained acceptance into the mainline churches in Nigeria. The problem is that while the mainline churches refrain from the practice of spiritual gifts in their gatherings and thereby face the consequence, the Pentecostals enga...

"The Loved One Does Not Yet Know All She Shall Become": mysticism as eschatology in medieval writers., John C. Medendorp, Calvin Theological Seminary


New developments in the study of Western Christian mysticism demand that the mystics be interpreted theologically if we are to accept the mystics on their own terms and take them seriously. This study argues that the medieval mystics in Europe up to the 13th century understand their work to be eschatological in nature, interpreting the mystical experience of union with the Divine as an inbreaking or foretaste of the eschaton. Reading Hadewijch of Antwerp, a 13th century Dutch mystic, together with contributions from Augustine of Hippo, Bernard of Clarivaux, and Hildegard of Bingen, this study attempts to demonstrate that the medievals understand the eschatological promise of the visio dei to be a reality already accomplished through the work of Christ, a reality which is thus assured in the life to come and accessible in some limited sense to individuals in this life. The mystical exp...